We are making available an Android version of BirdcageBuilder.
Birdcage radio-frequency (RF) coils are resonant circuits that operate with a specific current pattern at particular frequencies and are tuned by choosing the proper capacitor values.
BirdcageBuilder Mobile offers an interface for determining mutual inductances and capacitors needed to make a coil resonate at a particular frequency, given the coil's geometric properties such as the length and number of legs, cross-sectional shape of legs and end-rings, and the radii of the coil and shield.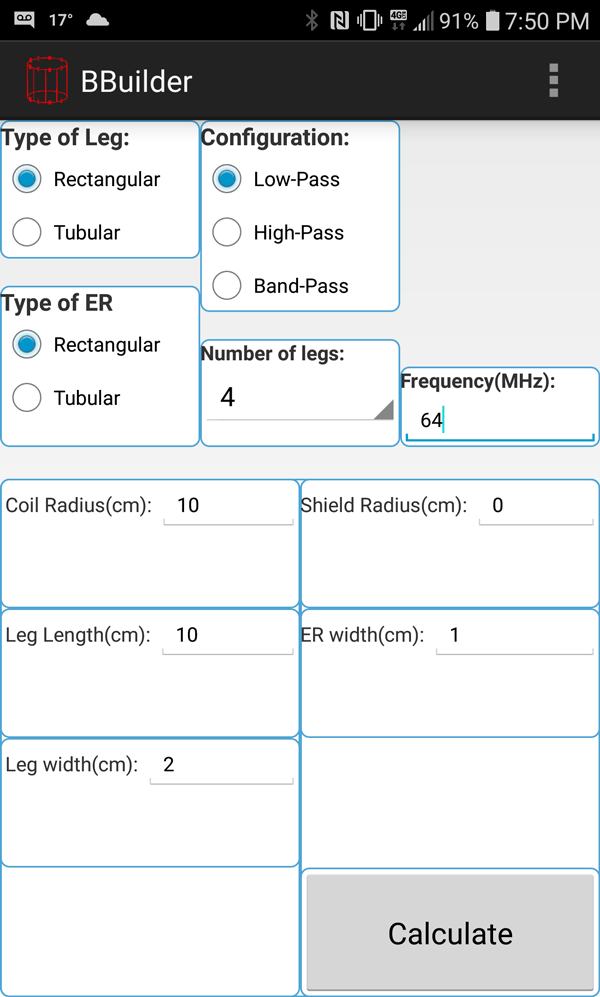 Get the Code
The software available on this page is provided free of charge and comes without any warranty. CAI²R and NYU Grossman School of Medicine do not take any liability for problems or damage of any kind resulting from the use of the files provided. Operation of the software is solely at the user's own risk. The software developments provided are not medical products and must not be used for making diagnostic decisions.
The software is provided for non-commercial, academic use only. Usage or distribution of the software for commercial purpose is prohibited. All rights belong to the author (Giuseppe Carluccio) and NYU Grossman School of Medicine. If you use the software for academic work, please give credit to the author in publications and cite the related publications.
Installation
On Android 2.0 and higher:
Download or copy the .apk file to local storage.
Navigate to the .apk file. On some devices, a file manager app may be helpful in navigating through the phone's file structure; Many highly-rated file manager apps are available on Google Play Store.
Tap on the .apk file and follow prompt to install.
The application is now available in the phone app list.
Contact
Questions about this resource may be directed to Giuseppe Carluccio, PhD.